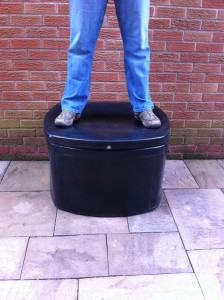 Tough ( this is a picture of my brother who claims to be 13 stone )

Water Tight – There is a lip that prevents water ingress.

Durable – It is made from the same material as Heating Oil Tanks and therefore will stand the test of time

Lockable – The Storage Bunker comes with an integral lock as standard
Fuel & LPG Services now offers a range of Storage Bunkers for both domestic and commercial environments.
The Storage Bunkers etc – ideal for storing anything from Horse Blankets, Pet Food, Garden Tools and Toys to Logs and Solid Fuel. We have even seen them filled with water and used as a Splash Pool.
General Storage Bunkers
We call these General Storage bunkers because they can be used to store so many different products. As mentioned before we have seen them used for everything from Horse Blankets, Children's Toys and Garden Furniture to Logs and Solid Fuels. The Storage Bunkers are designed to stand up to the rigours of a commercial environment – or what can be the even more rigorous demands of life in the family garden. Keep everything tidy and safe. There is even a mobile version for easy movement around a garden or storage area.
Dimensions

| Small Static | Large Static | Small Mobile | Large Mobile |
| --- | --- | --- | --- |
| 580mm | 875mm | 640mm | 935mm |
| 840mm | 840mm | 840mm | 840mm |
| 790mm | 790mm | 790mm | 790mm |
Mobile Versions (* add approx 60mm to height).
Pricing: Small – £159.00 incl VAT
Large – £189.00 incl VAT
Grit Storage Bunkers
An ideal way to store loose grit ready for when the ice and snow return. It is tough and durable, able to take the abuse of a busy spade or shovel. The bunkers are available in a highly visible yellow colour and are suitable for use in residential and commercial environments.
Coal/Solid Fuel Storage Bunker
It's robust and practical, but the Coal Bunker still proves an attractive way to store solid fuel. The access hatch allows for easy shovelling of coal, anthracite and solid fuels while keeping the storage area clean and tidy.